About Indo-MIM
MIM Process
Capabilities
Industries
Our Successes
News & Events

A core competency of Indo-MIM is our ability to design and manufacture our tooling in house. We believe that this is a critical asset to deliver high quality, high precision MIM products in an efficient and low cost manner. It gives us a tremendous advantage to respond to the urgent requirements of our customers and their markets. Our facilities and skilled craftsmen allow us to fully maintain our tooling, as well as to produce molds for up to thirty new products per month.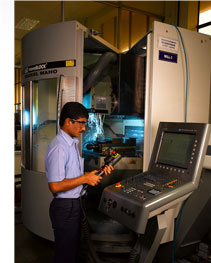 Indo-MIM houses a world-class tooling group skilled in the manufacture of precision injection molds, fixtures and gages. We are constantly investing in the latest machines and technology to improve our speed and precision. Some of our advanced tooling capability includes:
European and Japanese precision high-speed CNC milling machines for cutting copper and graphite EDM electrodes
Hard milling capability of mold inserts for less construction time.
A host of modern wire and sinker type EDM's capable of extreme accuracy.
Modular universal tooling system for fast and accurate machine changeovers.
Tool offset pre-measuring system that eliminates machine setup errors.
Scanning head CMM for inspection of mold cavities and electrodes.
Precision grinding in a temperature controlled environment.



Our tooling capabilities are supported by a highly trained design and engineering team that can turn your ideas into reality. Our multi-disciplined engineering group is skilled in product, injection mold, fixture and gage design. We work in a number of different 3D design environments including ProEngineer and SolidWorks. We provide a full range of product design support services including industrial design, FEA and 3D flow analysis.
| | |
| --- | --- |
| | |


Our engineering process begins right at the proposal stage. This allows us to be highly accurate in costing and helps the product to transition quickly through the development process. The engineering team performs a thorough product design review planning every aspect of the mold and manufacturing process. Once the project is underway, our APQP team meets with customer representatives to carefully plan each step of the project. Our multi-disciplined team of quality, product, tool, and manufacturing engineers work in conjunction with our field sales engineers to communicate with the customer every step of the way. Our efforts have enabled us to build strong customer relationships.
© Indo-US MIM Tec Pvt. Ltd. All Rights Reserved.