About Indo-MIM
MIM Process
Capabilities
Industries
Our Successes
News & Events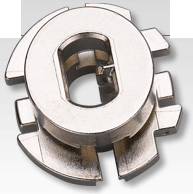 Indo-MIM has proved its prowess in manufacturing sector too. For one of its prestigious clients who are into manufacturing of locks, Indo-MIM provided cutting-edge solution. The lock manufacturer required case hardened steel (MIM 8620) for a lock with dimensions 23mm x 23mm x 13.5mm weighing 14.5 grams and Indo-MIM delivered the perfect solution.


The manufacturer had difficulties with multistage machining operations. Besides, the manufacturer faced difficulty to machine 3D complexity features like - Slots, grooves & holes for which the manufacturer had tried investing in casting, but couldn't meet the surface finish requirements. Therefore, the manufacturer had to undergo machining to meet its critical tolerances. Burrs created during machining affected the functionality of the part and both machining & investment casting could not meet the growing requirements of the customer.


Indo-MIM has now become an innovative technology resource for parts having 3D complexity. It has devised simple but very effective solutions for its esteem customers. Indo-MIM's case hardened MIM material was easily able to meet the material demands and the mechanical properties needed by its customer for their products. Indo-MIM specially designed a MIM tool with 2 inserts and 4 slides. Further, Indo-MIM also avoided all post-MIM secondary operations for features like grooves, slots and holes without any burrs. It resulted in a satisfied customer, who witnessed 30% savings on the overall cost of the project.
© Indo-US MIM Tec Pvt. Ltd. All Rights Reserved.