About Indo-MIM
MIM Process
Capabilities
Industries
Our Successes
News & Events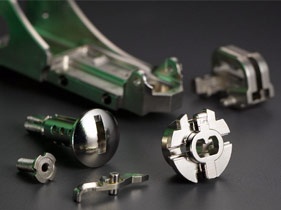 The MIM process provides the ability to manufacture a wide variety of materials with mechanical properties that are near equivalent or in some cases exceed wrought or cast processes.

Indo-MIM provides a full range of materials that are useful for a wide variety of applications. Low carbon and high alloy steels for case and through hardening requirements, a full range of austenitic, ferritic, martensitic and precipitation hardening stainless steels, soft magnetic alloys as well, Co and Ni base super alloys and select non-ferrous alloys. Many of these materials can be heat treated to meet specific mechanical properties for the individual application. Post treatment options such as Hot Isostatic Pressing (HIP) can further enhance mechanical properties for the most demanding applications.


Indo-MIM maintains and staffs a fully equipped development laboratory for the ability to custom manufacture materials to specific customer requirements. We work very closely with our powder suppliers to customize alloy chemistries specific to customer needs. With our in-house feedstock capability, we can quickly and inexpensively tailor a material for an application. If you do not see standard material that suits your need, please ask us how we can help.
Click here to view the MIM Material chart
© Indo-US MIM Tec Pvt. Ltd. All Rights Reserved.